Back in June of 2013, at its Worldwide Developers Conference, Apple announced that it was developing a new platform called iOS in the Car. The company promised to bring a car-customized version of its popular mobile operating system—including a tailored version of the Siri personal assistant—to vehicles from a huge array of leading automotive manufacturers.
Today, iOS in the Car arrived, albeit with a name change: Meet Apple CarPlay, which rolls out first on cars from Ferrari, Mercedes-Benz, and Volvo at this week's Geneva Motor Show. It'll work with the iPhone 5, 5S, or 5C.
CarPlay mirrors your iPhone's screen in a driver-friendly format, filling your center-console touchscreen with large buttons for key functions like maps, music, text messaging, and phone calls. Alternatively, drivers can press a voice control button on the steering wheel to call up Siri for an eyes-free control experience.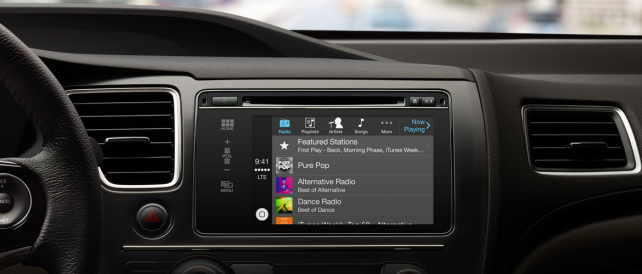 Apple's platform has also been designed to work with various manufacturers' physical controls, so you can navigate through the CarPlay interface with knobs, dials, and buttons. In Apple's words, "If it controls your screen, it controls CarPlay."
If there's one big down-side to CarPlay, it's that it is a phone-mirroring setup: It will only work if you own an iPhone.
Along with native Apple apps like iTunes and Maps, CarPlay will work with a variety of third-party apps, primarily audio-focused. Options at launch will include Spotify, Beats Radio, iHeartRadio, and Stitcher. Apple promises more compatible apps are coming soon.
If there's one big down-side to CarPlay, it's that it is a phone-mirroring setup: It will only work if you own an iPhone. That means the 55% of U.S. smartphone owners who use Android or Windows Phone will be left out in the cold—a fact Apple is surely hoping will drive iPhone sales even higher.
Though only three manufacturers are debuting CarPlay this month, Apple's list of "committed partners" is all-encompassing, with only Chrysler, Volkswagen, and Audi as notable absences.
Our editors review and recommend products to help you buy the stuff you need. If you make a purchase by clicking one of our links, we may earn a small share of the revenue. Our picks and opinions are independent from any business incentives.
Be in the know! Get Reviewed.com news and reviews straight to your inbox.
Thanks for signing up!