cars
2014 Subaru Forester 2.0XT Touring: Plug In, Turn On, Head Out
If a Subaru gets radar-based cruise control and cloud-connected infotainment, is it still a Subaru?
$32,995.00 MSRP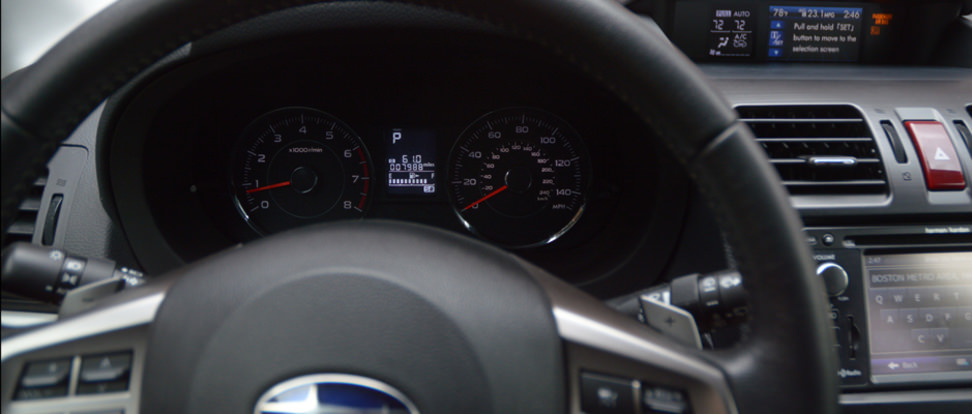 Introduction
The Subaru Forester compact SUV is all-new for 2014, promising better fuel economy, space, and performance in a product that doesn't deviate too far from the original, all-wheel drive formula. The host of minor changes add up to a major revamp, and the new car fits in with Subaru's reputation as a no-nonsense brand that makes cars for practical people, the sort of folks who will use that extra cargo room for mulch, camping gear, and yard sale furniture finds.
We drove a fully-loaded, 2.0XT Touring (starting MSRP $32,995, as equipped $36,220) and found it to be a good blend of solid practicality and new technology. We just wish Subaru had put more thought into the Forester's user interface.
Tech & Entertainment
From safety to entertainment, the sheer amount of tech available inside the new Forester came as a bit of a shock to us, and not just because Subaru made its name with cars that proved plain and practical. We were surprised mostly because Subaru is a relatively small automaker, and small automakers tend to lag behind when it comes to technology. Look at the antiquated nav systems in current Volvos and Jaguars, and you'll see why the low-volume manufacturers are turning to third-party systems in the near future.
We found no flaws with Subaru's EyeSight system, which uses radar for lane-departure warning, collision avoidance, and active cruise control. (If you want a more detailed look, we [put EyeSight through its paces on the 2013 Subaru Outback.)](http://cars.reviewed.com/products/subaru-2013-outback-2-5i-premium) Likewise, we appreciated Subaru's subtle integration of [Harmon's Aha cloud-connected audio platform](http://cars.reviewed.com/features/aha-radio-at-the-intersection-of-streaming-audio-and-social-media) into the StarLink touchscreen infotainment system. We had no troubles pairing our phone to use Aha, and easily accessed NPR podcasts, Yelp reviews, and social media updates—though the latter two updated via a detached, robotic voice that sounded like a dispatch from a low-budget, dystopian, sci-fi futurescape.
We had a big problem with Starlink's tiny controls, however. The design almost reads like a parody of what's wrong with in-car touchscreens, with Lilliputian fonts and dollhouse buttons replacing the former Forester's prodigious knobs and keys that were easy to find by feel. This came as a major surprise, as Subaru's nav system took a major leap forward on the new Outback we drove.)
Worst of all, StarLink's interface is laggy and impossible to read at speed without significant effort. That proceeds past bad design and turns right into a safety issue. If Subaru wants some inspiration, their engineers should take a look at Chevy's MyLink or Chrysler's UConnect for an example of how big icons and a few strategic physical controls can make an infotainment system far more user-friendly.
Design
Outside, only purists and pedants will immediately notice the differences between the 2013 and 2014 models. Luckily, we fall somewhere on the spectrum between the two, and can give you a quick summary: The hood scoop is gone from turbo models, the front and rear wheel arches are tamed, and the front bumper's Hapsburg air intake gives the crossover a passing resemblance to the new Toyota RAV4.
The new car is just 1.4-inches longer, 0.6-inches wider, and 1.3-inches taller than its Forester forebear, but inside, both rear and front passengers will find more room to stretch out. Cargo volume has also increased, and visibility is exceptional thanks to side-view mirrors that have been moved from the front, A-pillars to the front doors.
The dashboard is slightly more complex than those found on Foresters past. On the loaded XT Touring we drove, every single surface was covered with smallish buttons. We got used to it pretty quickly, but Subaru aficionados may miss the sparse center consoles of previous models. Two separate color screens separate work (fuel economy, settings, diagnostics) and play (infotainment, navigation), with the Subaru's rear-view camera inexplicably relegated to the smaller of the two. We did appreciate the level of customizability offered on the vehicle settings screen, which let us easily customize everything from whether the car beeps when locked to how long the rear defogger stays on.
Comparable Products
Before you buy the 2014 Subaru Forester 2.0XT Touring, take a look at these other cars.
Driving Experience
Mating a 2.0-liter turbocharged version of Subaru's iconic "boxer" four-cylinder to a CVT, the Forester XT's engine-transmission combination is designed for fuel economy when you want it, and power when you need it. We found no flaws in this plan, and averaged MPG numbers in the mid-20s while easily merging and passing in highway traffic.
All-wheel drive is, of course, standard. The Forester beats out other Subarus with ground clearance of snow and mud, and there's even an "X-Mode" that automatically optimizes the crossover for mildly difficult terrain — including automatic hill-descent control.
A big crossover with high ground clearance comes at a price, and that's high-speed handling. While the Forester proves downright nimble on city streets and deftly outmaneuvers larger SUVs, it's a bit ponderous on the highway. A stiff suspension is welcome in this case, as it gives the driver an adequate sense of road feel.
Conclusion
A redesign is all it took to get the Subaru Forester out of a sales slump, as it's become one of the more sought after crossovers currently on the market. It's easy to see why: a mix of old-fashioned practicality and new technology attracts buyers of all kinds. Plus, it's got great fuel economy and handling for such a large vehicle.
The Forester isn't flawless, but it's a good choice in its class—especially considering it's one of only two crossovers that the IIHS named "Top Safety Pick +," and the only crossover to get a top "Good" score in a tough new safety test. We just wish that more attention had been paid to the infotainment system's user interface, because it belies just how advanced the new Forester really is.
Our editors review and recommend products to help you buy the stuff you need. If you make a purchase by clicking one of our links, we may earn a small share of the revenue. Our picks and opinions are independent from any business incentives.