cars
2014 Nissan Versa Note: Going, Cheap.
All Versa, no verve.
$18,490.00 MSRP

I love small cars. They prove that you don't need a ton of mass and horsepower to have fun and get stuff done. And that's exactly why I found the time I spent with the 2014 Nissan Versa Note (starting MSRP $13,990, as tested $19,645) to be particularly disappointing.
New for 2014, the Versa Note replaces the old Versa hatchback. While the outgoing car was certainly past its prime, its design was at least unique. By comparison, I parked the 2014 Note next to a 2011 Honda Fit and had a hard time telling the two cars apart from the side and rear.
Boston had just cleaned out from a winter storm when the Versa Note arrived, and curbside snowbanks made side streets narrower than usual. I was excited: One of the joys of driving a small car is scooting through city streets with ease, leaving bulky crossovers and full-size sedans in the dust.
Instead, I found myself lumbering around corners and tapping the brakes at every obstacle. Thanks to ponderous steering and a jarring suspension, I had but a vague idea of where the little Versa was headed at any given moment. I might as well have been driving an old Buick Roadmaster.
And forget about acceleration: Any pep the little 1.6-liter four-cylinder put out was sapped by a droning, groaning continuously variable transmission (CVT). There's a manual transmission option, but it's only available on the base model of the Versa Note.
Even though the car had only 7,000 miles on it, there was a noticeable dash rattle on rough roads. And even though my foot is admittedly a heavy one, my gas mileage in tough city traffic was in the low 20s, not the mid 30s.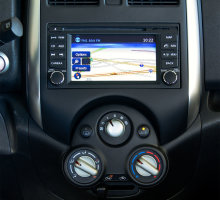 I did appreciate some of the upgrades available on the tester. The Versa Note now offers Nissan's straightforward infotainment and navigation setup, which I find to be elegant and intuitive. In fact, my only complaint is that making a phone call over Bluetooth blacks out the only navigation screen. That means you could get lost just when you're calling someone to let them know you're nearby.
Still, it's a slight upgrade from the version I used on the 2013 Nissan Altima. NissanConnect now features Pandora connectivity and hands-free text messaging. It also connects to Google using your smartphone's data plan instead of dialing a phone number.
Other features include heated seats, and a surround-view camera. Now, anything that cuts down on vehicle damage is OK in my book—but if you can't park a car that's festooned with windows and just about as wide as your arms spread out, it may be time to head to an empty lot with some traffic cones for some practice.
If you're shopping for a brand new small car, I suggest you head to your Kia dealership and try the Rio, swing by the Hyundai dealership and drive the Accent, and stop off somewhere you can get behind the wheel of a Chevrolet Sonic. They're proof that cheap, small cars can also be good and fun.
In fact, you don't even have to leave your Nissan dealer to find two choices better than the Versa Note. The Nissan Sentra is perfectly serviceable—even comfortable. The Versa sedan is downright cheap—but it charmed me during the week I drove it.
Otherwise, I'd recommend you keep shopping for a used car. There's a good chance you'll be able to find one as well-equipped as the Versa Note for the same price, and with some warranty still left.
Photos: Nissan
Comparable Products
Before you buy the 2014 Nissan Versa Note, take a look at these other cars.
Our editors review and recommend products to help you buy the stuff you need. If you make a purchase by clicking one of our links, we may earn a small share of the revenue. Our picks and opinions are independent from any business incentives.