cars
2013 BMW X1 xDrive35i
From app integration to steering feel, everything about the X1 feels solid and deliberate.
$38,450.00 MSRP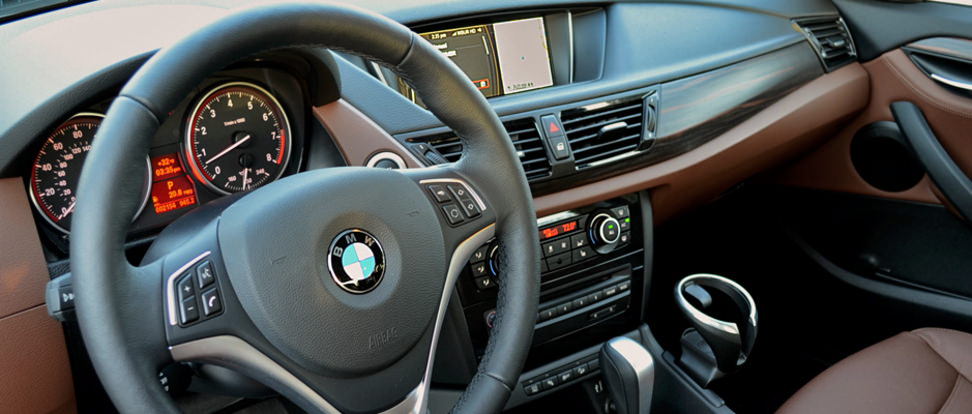 Introduction
The X1 carries BMW's focus on technology, comfort and driver engagement into a compact crossover.
The BMW X1 is not a new car. In fact, it's been around in Europe since 2009. They didn't let us have it until 2013, though, which we'll forgive. After all, we just spent a week in Berlin and Munich, and it appears that America just started sending them Abercrombie and Fitch shirts about six months ago.
Just because the X1 is old hat in the Old World doesn't make it any less exciting for Americans, though. In the downsized era of fuel efficiency and new urbanism, the 3-series-based crossover fits the bill just as the now-monstrous X5 did in the booming years of sprinkler city McMansions and gargantuan outdoor shopping centers. The X1 is a crossover geared at two rapidly expanding demographics: financially comfortable millenials who are ready to trade in the 3-series to get more room for a car seat, or baby boomers who don't need to haul teens to soccer practice anymore. It's a car for where America is right now.
What's especially exciting about the X1 is its inclusion of one of the most technologically advanced infotainment systems available on a European car, and smartphone connectivity that's more reliable than any other setup we've tested. Less exciting: While the X1 starts at just over $31,500, a fully optioned-out model tops $49,000. That puts it squarely in competition with BMW's own larger X3, or the far more unique Range Rover Evoque.
Tech & Entertainment
You're going to love the new iDrive
When it first hit the market, BMW's iDrive quickly became shorthand for the confusing, overwrought, first-generation infotainment systems of the early 2000s. We're happy to say that things have improved remarkably since then.
While we generally prefer a good touchscreen to navigating complex menus with a physical knob, BMW's iDrive at least offers an intuitive setup with physical "back" and "home" buttons. They make all the difference when it comes to usability in a system that hides menus within menus. "Dialing in" a long city or street name with the iDrive controller takes longer than typing it with a virtual touchscreen keyboard, however.
Our favorite offline option is "Last Mile," which will switch driving navigation on the dashboard to walking directions on your phone.
A wide LCD with a split-screen is good for keeping a navigation screen displayed while changing a radio station, and most important audio and climate functions are duplicated with physical buttons on the dashboard and steering wheel. That's important, since a driver should be able to control essential functions by touch without having to take his or her eyes off the road.
The fully-loaded X1 xDrive35i (oh, how we long for the days when BMW had a simpler naming convention!) we drove featured BMW Apps, including BMW's Connected Apps smartphone connectivity package. It lacks a flashy user interface, but it opens up a staggering number of options as long as your data-enabled phone remains plugged in via a USB cable. You can also access Twitter and Facebook updates from friends plus choose from several pre-programmed but customizable status updates of your own, from what's on the radio to where you're headed.
The utility doesn't stop when the car is off and the phone is unplugged. Our favorite offline option is "Last Mile," which will switch driving navigation on the dashboard to walking directions on your phone. It'll come in handy if you have to park far from your destination, or if you're a sitcom character who runs out of gas on the way to his own wedding. ConnectedDrive also lets owners see how much fuel they've used and analyze their driving style to improve efficiency.
Design
If you've ever been in any BMW before, you'll immediately feel at home in the X1
On the outside, the X1 looks a tad pinched. Perhaps its just our American eyes, used to similar sheet metal stretched over the much larger X3 and X5. In our opinion, the X3 is nearly perfectly proportioned and the X5 looks a bit bloated, but the X1 appears undercooked.
Inside, it's one hundred percent a BMW, a fact that will likely endear it to current BMW owners looking to up- or downsize. If you're used to the German automaker's iDrive system and sleek finishes, and have already mastered BMW's somewhat unique control setup, you'll have absolutely zero learning curve when it comes to the X1. If you're coming from another brand, be prepared for buttons and knobs that push and turn with ease, but feature inscrutable pictorial symbols. Don't fret: You'll likely get the hang of the control setup within a week or so, and you'll immediately appreciate the superior fit and finish.
Inside, it's one hundred percent a BMW.
Most people will not regularly need more space than the X1 offers. One of our editors was moving into a new place when we had the X1, and we packed it full of boxes and bags no problem. Unfortunately, after the rear seats have been folded down, they require extra effort to be pushed back into position. It's an awkward maneuver involving pulling the seatback release lever with one hand while pushing the seat itself back into position with the other.
Comparable Products
Before you buy the 2013 BMW X1 xDrive35i, take a look at these other cars.
Driving Experience
If it's flawless handling you want, get a sedan. But if you need the space, the X1 isn't at all bad.
Decoding the badging of our X1 xDrive35i loaner would show that it's an all-wheel drive version of the X1 with BMW's 300 hp six-cylinder engine under the hood. In our tests, we found that steering feel was communicative and precise. With its slightly higher center of gravity, the X1 wasn't as nimble as a 3-series, but it was among the most sprightly of the crossovers we've driven.
Unfortunately, the six-cylinder engine was less than silky smooth, with a harsh note that reverberated throughout the cabin at higher speeds. That came as quite a surprise, as we've driven many other BMWs with the same engine and it has always impressed us. The engine — code-named N55 — has consistently been rated among the best in the world. We suspect that a lack of sound-deadening material may be to blame for our tester's harshness.
It's not perfect. But if you're used to driving a BMW and you want the same handling characteristics in a compact crossover, you'll have a hard time finding a better match than the X1.
Conclusion
The BMW of compact crossovers
Perhaps no other symbol in the automotive world is as loaded as the blue and white roundel on the front of a BMW. That's a shame, because it often prevents the company's cars from being judged on their own merits. Looking at the X1 xDrive35i in a vacuum, it's a comfortable compact crossover that rewards the driver with new technology, more room than a sedan, and excellent road feel — although it's a bit loud at high speeds. Compared against its competitors, though, the X1 is expensive for what it offers, especially when most of the option boxes are ticked.
Our editors review and recommend products to help you buy the stuff you need. If you make a purchase by clicking one of our links, we may earn a small share of the revenue. Our picks and opinions are independent from any business incentives.